3. Instructions for writing with USB cable (important)¶
Firefly-RK3399 The Android system is installed by default at the factory. Due to system characteristics, when the motherboard with Android7.1 system is installed to write other firmware that is not the same version, some pre-processing is required, otherwise it will cause the firmware to be burned failure.
After the following pre-operation processing, the machine should be in the maskrom state as shown in the figure below, otherwise the pre-operation will not succeed.
If the machine is currently in the maskrom state, no pre-processing is required and any version of the firmware can be burned directly.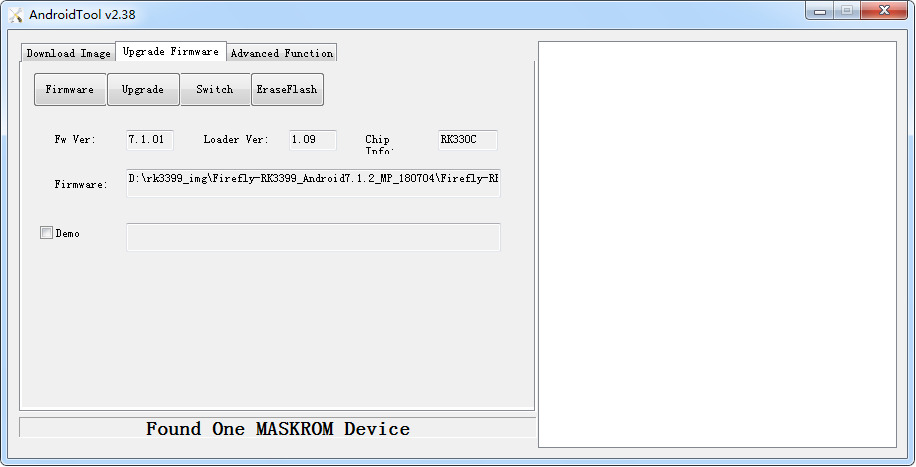 1.Programming tool (download the corresponding upgrade tool version according to the table below)
2.Firmware
Ubuntu:
The Ubuntu firmware released by Firefly uses the GPT partition format to manage the boot media. The early firmware that uses the MBR partition format has been discontinued.

Android 7.1:
Android7.1 firmware is divided into tvbox version and industry version (mainly maintenance), both versions of the firmware are compatible with Firefly-RK3399 board type.
After the Android7.1tvbox version firmware has been installed on the motherboard, if you need to update to other non-Android7.1tvbox version firmware, the following pre-processing is required**
Pretreatment method 1:

Download RK3399_Android7.1_EraseIDB.7z, first upgrade uboot separately, after the upgrade is complete, restart the motherboard, the motherboard will automatically erase the IDB, enter maskrom mode. Then follow the normal upgrade process to update the firmware.
** Please read the following table carefully before writing: **