2. Qt Creator¶
Here is the manual for Qt Creator on host PC, Please install and configure firefly Qt environment first.
Buildroot Qt environment instructions locate in Buildroot development
Ubuntu Qt environment instructions locat in Ubuntu manual
2.1. Install¶
Go Qt download page, choose one version like qt-creator-opensource-linux-x86_64-x.x.x.run, download and then execute ./xxx.run to install. Note that the file has to be executable.
2.2. Configuration¶
Here we use firefly-qt-5.12.2-aarch64 as example, the target platform uses Buildroot system:
The configuration varies slightly depending on the target system, so please read the text carefully, pictures for reference only, do not just copy configuration in the picture
Launch Qt Creator, open Tools -> Options, find Kits page.
Select Qt Versions

Click add button on the right, select qmake in the Qt environment installation location.

qmake:/opt/firefly-qt-5.12.2-aarch64/host/bin/qmake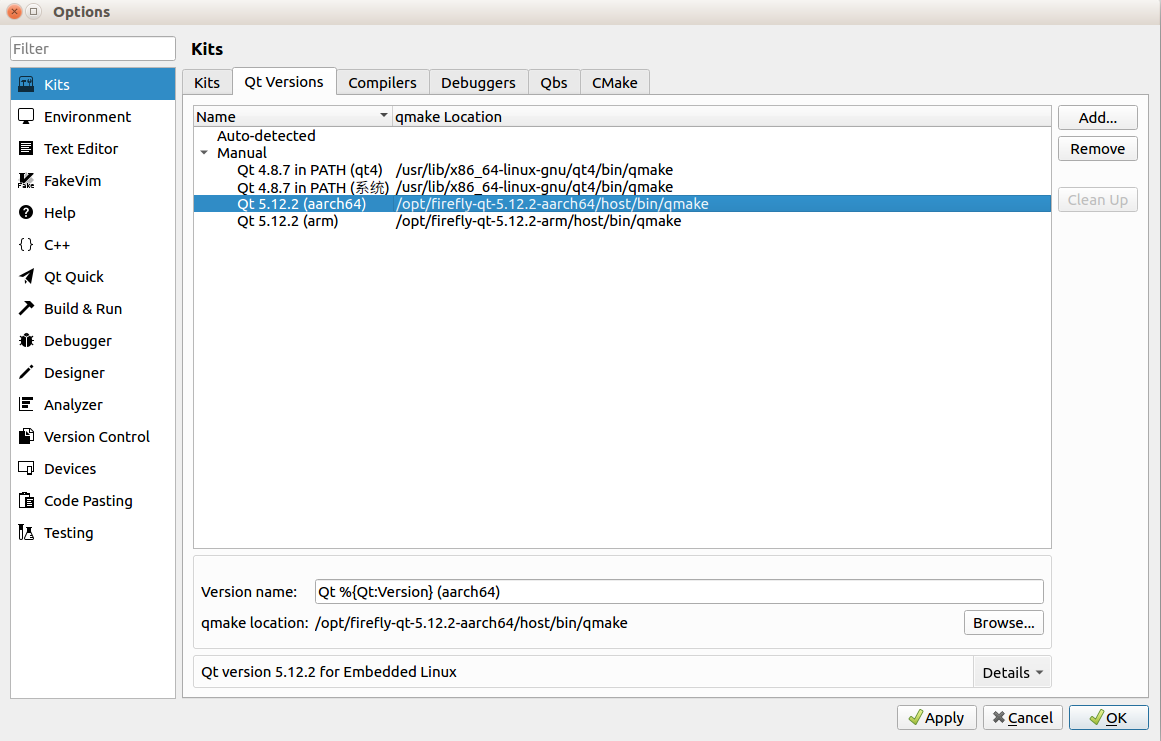 Select Compilers

Click add button on the right to add gcc and g++ compilers.

If crossbuild-essential-arm64 is installed on host PC, then the compilers are under /usr/bin/.

If using 3rd-party compilers, just find compilers' installation location.

If the target uses Buildroot, use the compilers in the Buildroot Qt environment package.

g++:/opt/firefly-qt-5.12.2-aarch64/host/bin/aarch64-buildroot-linux-gnu-g++

gcc:/opt/firefly-qt-5.12.2-aarch64/host/bin/aarch64-buildroot-linux-gnu-gcc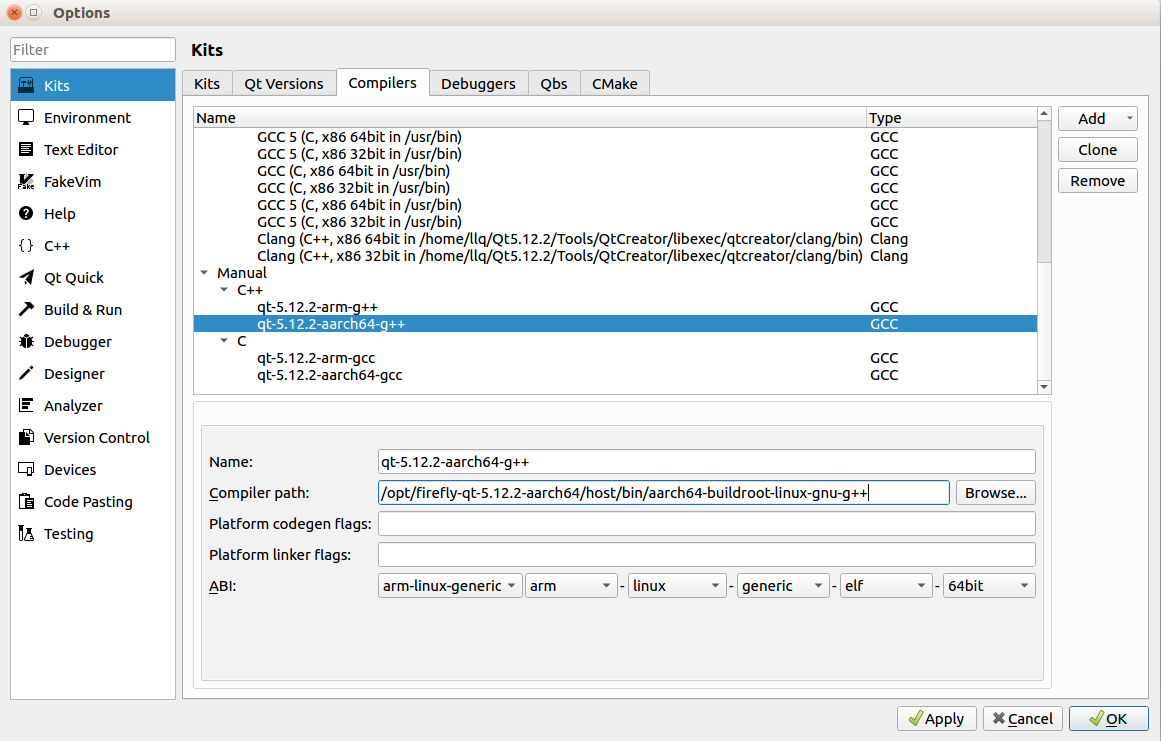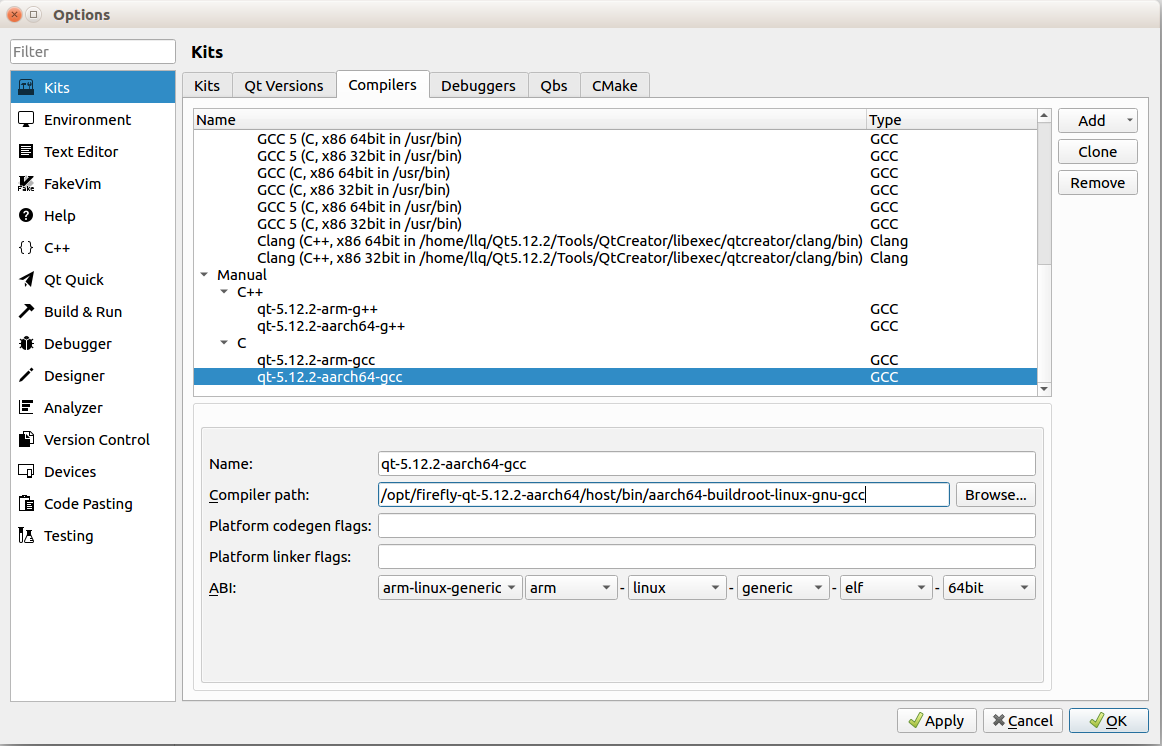 For easily debug, configure gdb and devices for online debugging:
Select Debuggers

First install gdb-multiarch on host:apt install -y gdb-multiarch

Check if /usr/bin/gdbserver exist on target. If not, install it: apt install -y gdbserver (Buildroot comes with gdbserver, no need to install)

Back to host Qt Creator, click add to add gdb

Select gdb-multiarch :/usr/bin/gdb-multiarch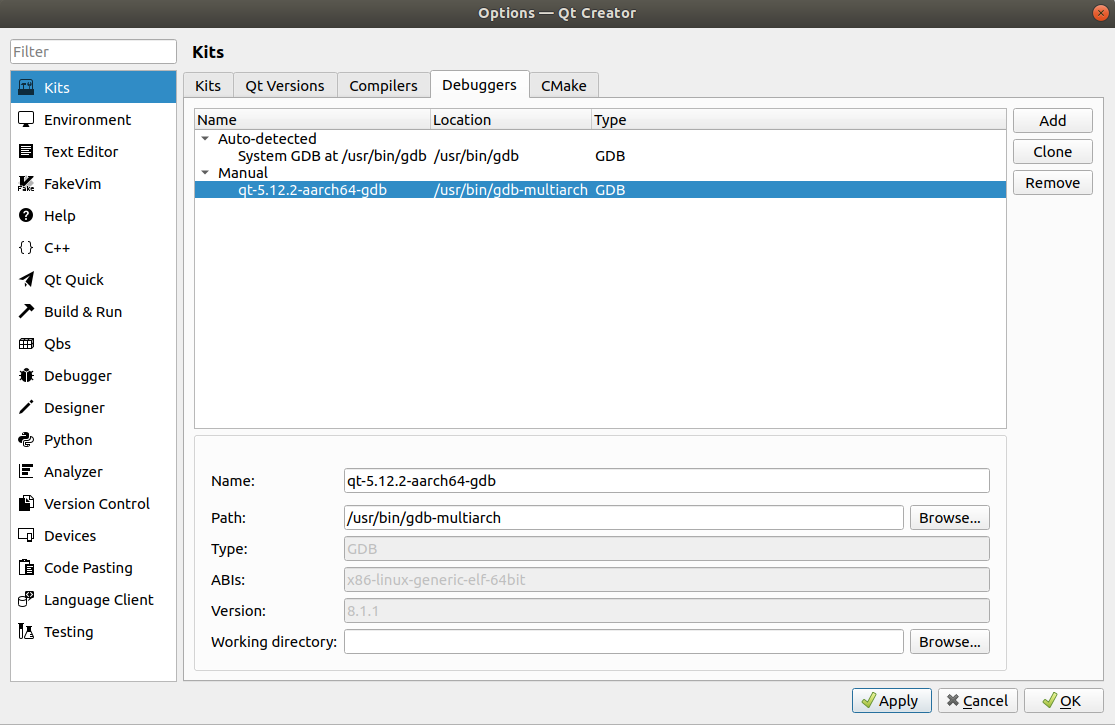 Configure Devices

Set the IP, username (root) and password (firefly). You can use static IP on target.

Set the GDB server: /usr/bin/gdbserver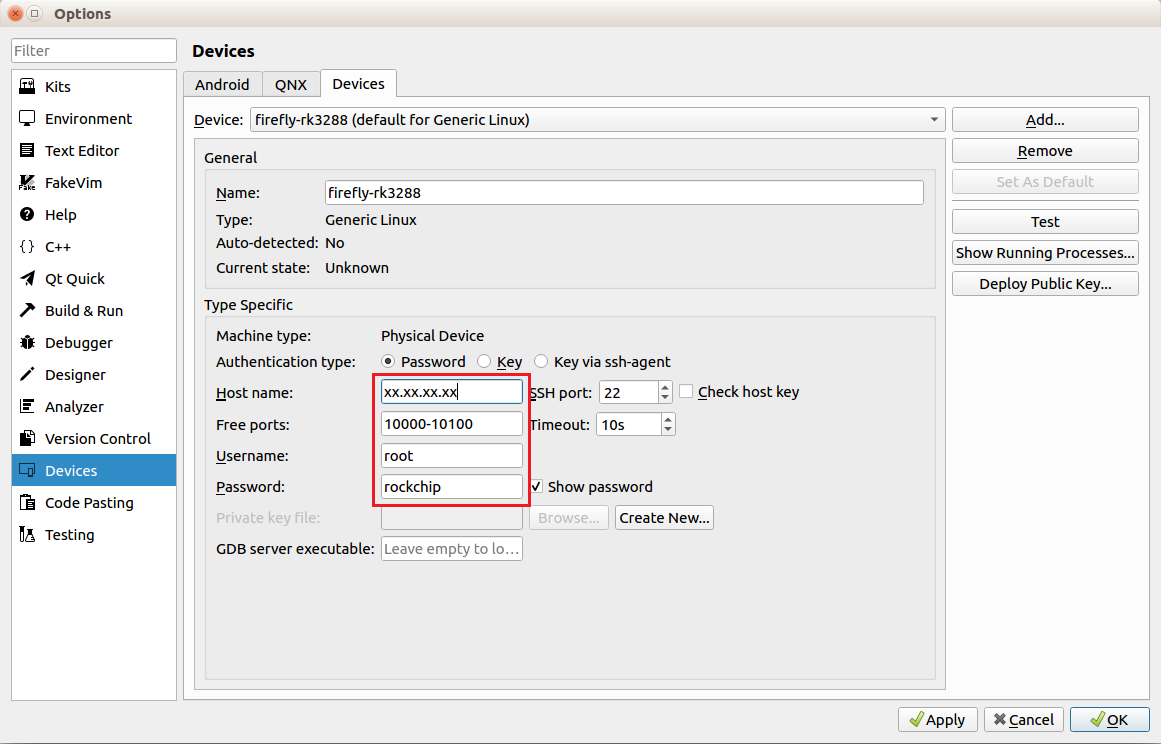 Configure Kits

Add previous settings into Kits.

If target uses Ubuntu, you need to set sysroot.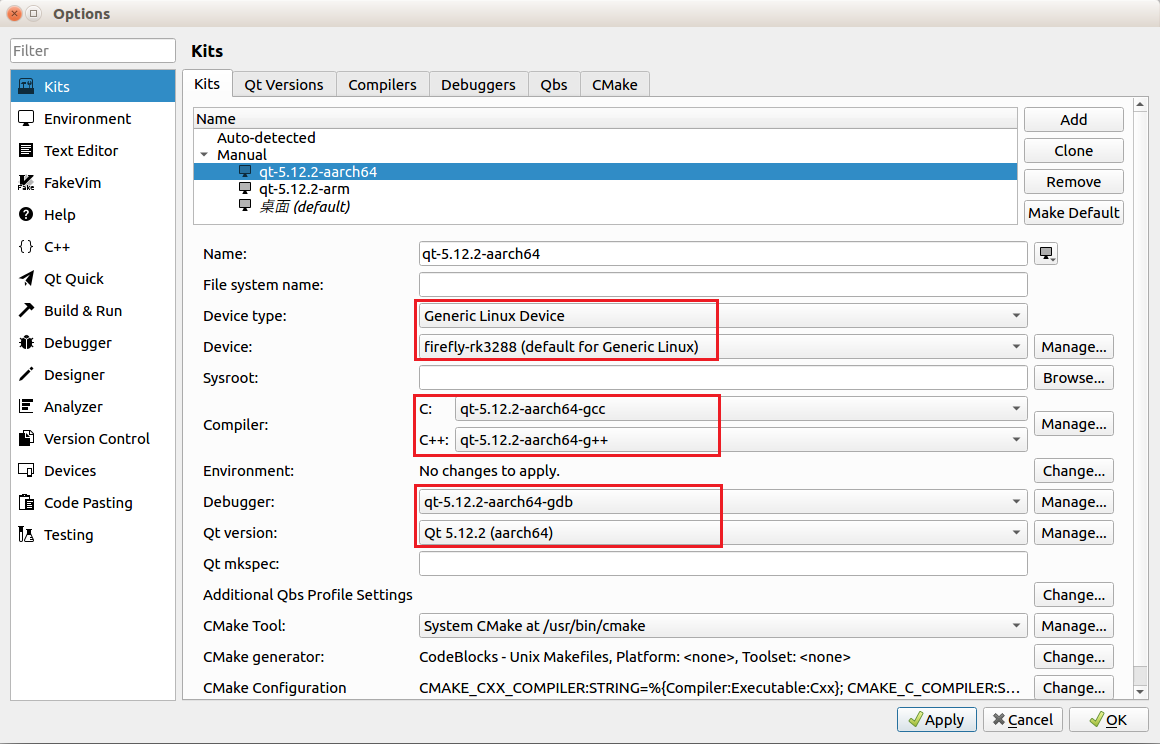 2.3. Compile and Run¶
Click Welcome -> Open Project to open a demo project, choose the Kits: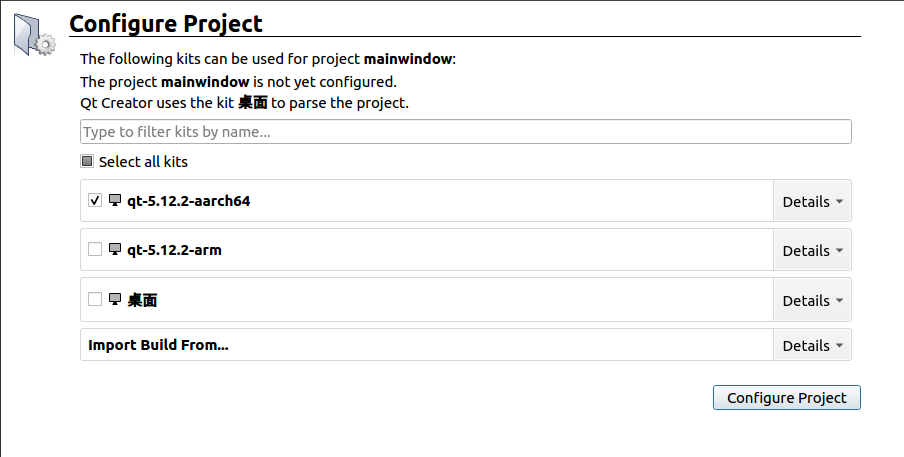 Then click Projects -> Run to set platform parameters -platform wayland:
Ubuntu target need to use -platform xcb, or linuxfb, eglfs as you need.

Configure envionment variables export XDG_RUNTIME_DIR=/tmp/.xdg:
RK356X Buildroot needs to use /var/run, not /tmp/.xdg
Ubuntu target needs to set different variables according to platform selected above, read the README file in Qt environment package.
If the target Qt environment (mentioned at the beginning) is already prepared and demo ran successfully, then you can click Fetch Device Environment in this step.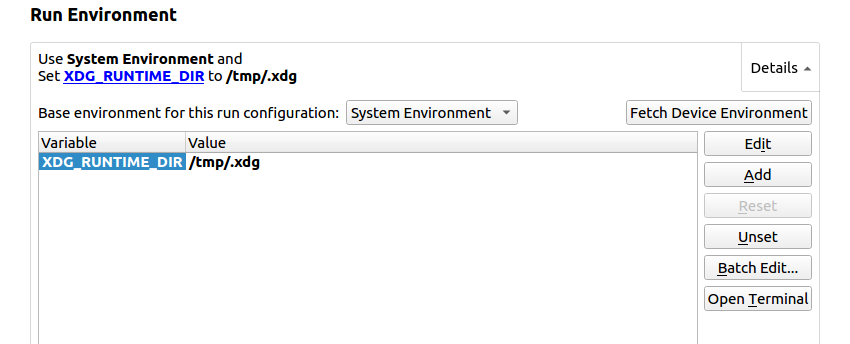 Compile and run:
Click Build to compile Qt program; Run or Debug for running and debugging.
To restart the program, remember to click Stop first.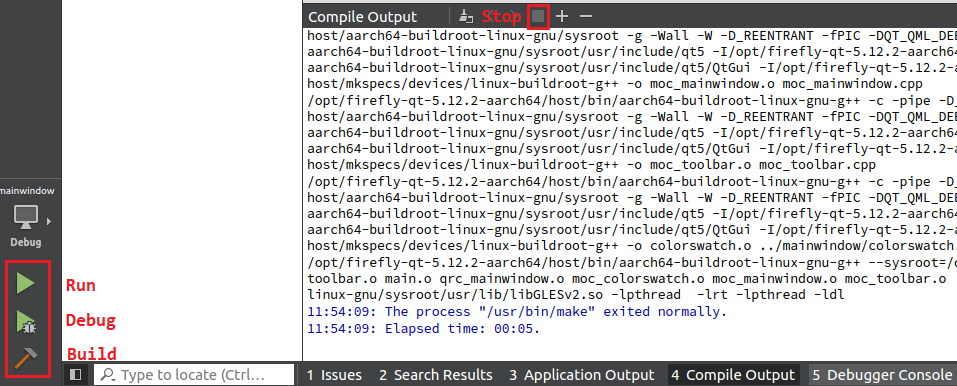 The output directory has the same location as demo directory.